I am listening to Ruth Ozeki's novel, The Book of Form and Emptiness.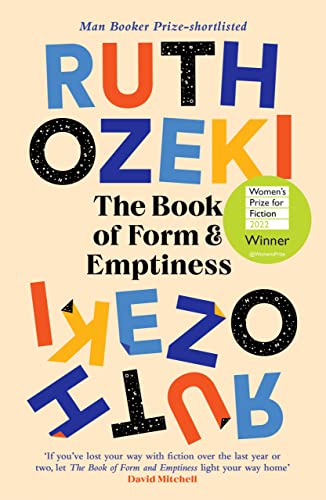 It is a long book covering aspects of physical and mental health and wellbeing, identity, belonging and alienation and that is in the first couple of chapters.
Some of the narrative reminds me of Haruki Murakami, most is completely original.
It is fantastic.
The story is told from the perspective of the main character, Benny, a 14 year old American schoolboy, the third person and 'the book' that is, the book itself narrates alternating chapters.
Benny's mum is Annabelle. Amongst her many challenges, she is a hoarder.
Near the start, 'Tidy Magic' finds its way into her shopping basket as she is purchasing unnecessary thrift-store items.
It is, as the title suggest about tidying; it transforms her life.
On Monday (It is Wednesday) I was in my daughter's bedroom.
I saw, The Life-Changing Magic of Tidying Up, by Marie Kondo on one of her book shelves.
'Oh,' I said, 'That book!'
'It's not mine, not sure where it came from,' my daughter replied.
'There is a book just like it in the story I am listening to on Audible.'
'It was in a book I read too.'
'That's odd.'
'Yes, I think it is a thing.' (Lots of things are 'a thing' to her generation.)
I took the book and headed downstairs, skimming through.
And so, 48 hours later I have eight bin-bags filled with my old shirts and ties (not worn any in at least five years) as well as out of date t-shirts, jackets and trousers (bye, bye chinos).
(If anyone is interested, my post-Covid workwear tends to be a pair or Wrangler cords and a blue scrub-top from the hospital store.)
And on to the socks.
And the pants.
I did an initial cursory throwing away yesterday and went at it seriously this morning.
My drawers have flipped from over-full and a struggle to close to half-empty.
I found a t-shirt I had forgotten about (photo) (a little foosty).
The books are next.
All my life I have had a deep relationship with books.
As a child my dad was a bibliophile, a regular orderer of Reader's Digest, Book Club Associates and the like. Our house was filled with books, many hard-backs.
This in hindsight was odd, as when I was a child although there were books around me, they were almost all for adults.
I used to read and re-read the Old Testament (illustrated for children), Oor Wullie and The Broons.
When we moved to Israel in 1985 my dad got-rid of lots of his books, not sure whether he sold them although he probably gave them away.
I've never reflected on whether he struggled with this deconstruction of his library.
When we left Israel almost five years later to return to the UK my dad further split his books, leaving behind even more.
By this time I had started reading some of them. I remember Somerset Maugham's 'Of Human Bondage' and Neville Shute's 'A Town Like Alice'.
When I was 13 I received an 'A' for a project I produced on the Japanese Samurai. Much of it was copied from his book, 'Samurai' which I still have today. (Maugham has disappeared).
I also remember my brother Nigel who moved to Israel a few years before, perhaps in 1983 then returned to the UK initially temporarily then for a further ten or so years before finally moving back again. (Given the chance, my family are wanderers).
When he was away at the start, it was my responsibility to look after his flat. Water his plants, that kind of thing.
He had and has inherited my dad's bibliophilia; on a shelf upstairs in the flat he had a collection of martial art books and magazines, some by Bruce Lee, others by Karate greats like Mas Oyama and Nakayama.
I used to read them, in the silence of the empty flat. In the heat.
I have too many books.
Marie Kondo, the author of The Life-Changing Magic of Tidying Up (Funny, she is Japanese too) would be troubled by their numbers.
I have always struggled to get rid of books.
They have to date helped balance me through the various ups and downs of life. Through Self-Help, fiction, poetry and play. Some have been leafed through multiple times, others never opened since the day I bought them.
When my children were younger, one of our favourite activities was a trip to the Borders in Batley (beside the big Ikea) (Jo Cox's previous constituency, now served by her sister, Kim Leadbeater).
Today, Waterstones is our destination with Foyles for special occasions.
I've started going through my books.
Those I have read and won't re-read that don't have any special significance to me (e.g. I kept Paul Auster's Leviathan, and all his other novels but thrown, 'Little Dribbling' by Bill Bryson.) I have included some dictionaries, as they are a thing of the past as well as the many management books I have purchased. Some books for children my kids never liked and a variety of others. Why did I buy Alex Ferguson's autobiography?
I am starting to feel lighter.
I still have more pants, socks and books that I will ever throw away.
One day at a time!