I have a colleague.
I'll call her A.
That is not her real name or even her initial. It will do for now.
This is about menopause.
During her appraisal this year and last we touched on the effect of the menopause on her experience of work.
Menopause comes from the Greek for menos which equals month and pause, which, well, means, pause.
It feels strange as a man to be writing about this, particularly as it is so far outside my professional sphere.
This change mostly affects women from the mid to late 40s and beyond.
My patients are usually in their 80's or 90's.
Yesterday, I was walking with my son through the wild section of Clumber Park. Our dogs were gambolling in the scrub.
'Only killer, pilot whales and humans experience the menopause,' he said.
He has just finished his first year at university studying Biology.
He has acquired lots of facts.
'That's odd,' I replied, 'What about elephants?'
No, they keep going.
We discussed some of the theories for this.
The health and social care workplace is predominantly staffed by women. Over three quarters of NHS staff are female, an even greater proportion work in social care.
And yet, there is little mention of the menopause in NHS or Social Care induction or literature. For example, the ways in which it can affect women physically, emotionally or psychologically.
Most unpaid carers are women.
When government policy cuts taxes for the rich to save money on support services (like the NHS and social care) they are having a disproportionately negative impact on women.
There may be women in the Tory party, it is however a sexist juggernaut.
Ironically it was only a fortnight ago that the NHS signed the Menopause Workplace Pledge. An aspiration to consider the effect of the menopause on women's experience of work. Social care is lagging.
I am finding this difficult to write as I am afraid I will say something wrong, something naïve that will either reveal my ignorance or lead me somewhere I shouldn't.
It is relatively easy to be a man.
Sure, we have our challenges but brain fog, hot flushes, night sweats and irregular periods are not them.
In the discussion with my son we talked a little about elephant society. For all they are matriarchal and long-lived they don't experience the menopause. One theory that works for killer whales (who can live into their 80's and 90's if not killed by pollution or microplastics) relates to family structure, where matriarchs remain part of the original pod and grandmothers have a closer, more vested interest in supporting the survival of their grandchildren, compared to those animals where the female moves off to join other families.
No one really knows.
Something common to men and women in the NHS is their experience of stress and the challenges facing their mental health, it is just worse for women as a stressful workplace and the challenges of 2020's family life, contributed to by the menopause are additive.
We are planning to adopt and run with the Menopause Workplace Pledge in my trust and this is something I celebrate.
I was listening to a podcast this morning, it was Adam Buxton talking with 'British writer and cultural historian' John Higgs.
The talked about the Dicken's conception of the best and worst of times.
They quoted Obama who suggested now was the best time in all of history to be randomly born, rich or poor, male or female, queer or straight.
It is hard to accept that the times are great.
Many of my blogs and almost all my Tweets are a reflection of how awful things are.
Yet, if you follow this logic and read Steven Pinker, you will find examples of widespread freedom of opportunity, education, healthcare and equality that have never existed in the past.
Sure, we shouldn't pretend that everything is OK and we can settle on our laurels and forget those less fortunate than ourselves, we need to maintain the momentum, the pressure and the call for change, we need to call-out the obscenity of the Tory party's manipulation of democracy, the horror Roe v Wade overturned and atrocities taking place today in Ukraine, Syria or Afghanistan.
They talked about the 'no smoking' sign on the Enterprise.
Once upon a time, not long ago, smoking was so endemic that the notion people wouldn't smoke in space was absurd. Look where we are now.
This is no paean to celebrate the good times. Equally getting off on the good old days doesn't take you very far.
Let's be grateful for my son's generation, for their values, sensitivity and understanding. Let's keep up the fight, the pressure, the emotional introspection that maintains improvement.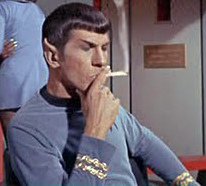 Let me know what you think.
Comments, re-tweets and shares are welcome.
See you soon.